AG-500
The plumbing code suggests:
"Discharge from the relief valve shall be piped full-size separately to the outside of the building or to an indirect waste receptor inside the building. In areas subject to freezing, the relief valve shall discharge through an AIR GAP into an indirect waste receptor located within the heated space, or by other approved means."
The plumbing code further suggests:
"In addition to all other requirements, if the relief outlet discharge piping is installed so that it leaves the room or enclosure in which the water heater and relief valve are located and discharges to an indirect waste receptor, there shall be an AIR GAP installed before or at the point of leaving the room or enclosure".
ASSEMBLED IN ACCORDANCE WITH ANSI/ASME A112.1.2 AIR GAP IN PLUMBING SYSTEMS STANDARD.
Resource: IPC Commentary 1997
504.7.1 Discharge
504.7.2 Location
Features:
Prevent Cross Connection
Assembled in accordance with ANSI/ASME A112.1.2 A
| Part Numbers | BIM Links |
| --- | --- |
| RVAG-750CS | |
| RVAG-750TH | |
| AG-500 | |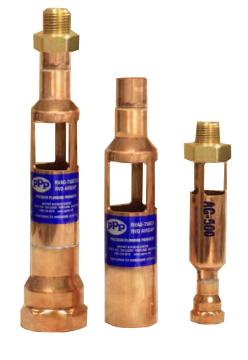 Click to Enlarge [+]