Tail Piece Trap Priming Assembly
The Precision Plumbing Products 1 1/2" Tail Piece floor drain trap priming assembly is provided with a braided 3/8" stainless steel flexible priming make up water line with 5/8" compression fittings, and chrome plated escutcheons for both the wall tube and the make up water line.
This under lav device will supply water directly to the floor drain trap when the lav is in use. A simple installation that will conserve potable water while still maintaining an adequate trap seal that will not allow sewer gas to escape inside the living or work space.
| Part Numbers | BIM Links |
| --- | --- |
| LTP-1500 | |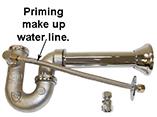 Click to Enlarge [+]