Walker Closet Primer
The Walker Closet Primer is manufactured from brass parts provided for simple installation. This trap priming device provides approximately 2 ozs. of fresh water per flush.
The Walker Closet Primer is designed to prime one floor drain trap at a distance not to exceed twenty (20) feet from point of installation. It is recommended that a 1/2" OD copper make-up water line is run between the primer and the floor drain trap. Trap primer make-up line must have continuous slope to floor drain.
| Part Numbers | BIM Links |
| --- | --- |
| WCP-1 | |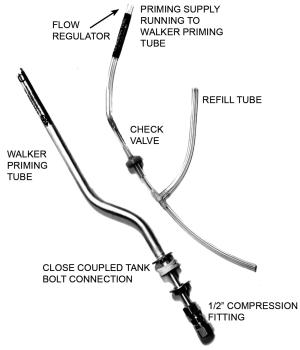 Click to Enlarge [+]