High Pressure Fluid Hammer Arrestors
Engineered to Tough PPP Standards
These units feature the same high quality design as our standard water hammer arrestors, with the exception of the seal rings and the addition of the high pressure filler cap at the top of the arrestor. The arrestors shown are rated for 2,000 PSIG maximum spike operation.
Finished to Your Specifications
The expected spike pressure must be specified as well as the chemical make-up of the fluid in the system and the maximum temperature when ordering. Arrestors may be charged at the factory with either air or dry nitrogen per your specification. If arrestors are to be used in systems pumping volatile fluids, it is mandatory that they are charged with dry nitrogen.
Features:
High Pressure 2,000 PSIG
600 lb Chrome Plated Liquid Filled Gauge.
U.S. Patent No.3,633.627
| Part Numbers | BIM Links |
| --- | --- |
| HPC-500 | |
| HPC-750 | |
| HPC-1000 | |
| HPC-1250 | |
| HPC-1500 | |
| HPC-2000 | |
| HPC-2500 | |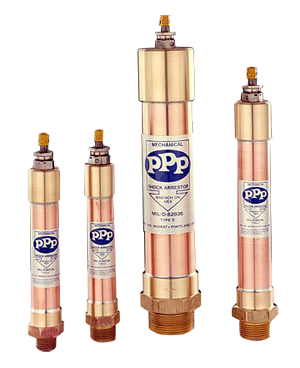 Click to Enlarge [+]