Stainless Steel #316 - Threaded
Adaptable to Your Individual Needs
Stainless Steel Hammer Arrestors are available for all types of fluid systems - water, deionized and triple distilled water, chemicals and petroleum products.
Finished to Your Specifications
When ordering, the expected mean spike pressure must be specified as well as the chemical make-up of the fluid in the system and the maximum temperature. Arrestors may be charged at the factory with either air or dry nitrogen per your specification. If arrestors are to be used in systems pumping volatile fluids it is mandatory that they are charged with dry nitrogen.
Features:
Available with Most Types of Fluids
Constructed of 316 Stainless Steel
Available in NPT or BSP threads
U.S. Patent No.3,633.62
| Part Numbers | BIM Links |
| --- | --- |
| SS-500316 | |
| SS-750316 | |
| SS-1000316 | |
| SS-1250316 | |
| SS-1500316 | |
| SS-2000316 | |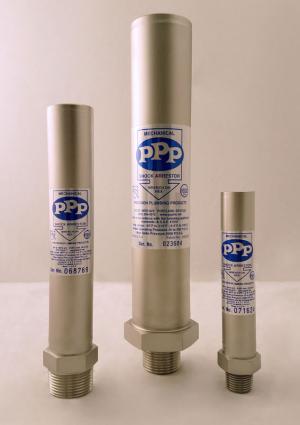 Click to Enlarge [+]